Learn about Shimokawa's efforts and challenges in creating a sustainable town, gain an once-in-a-lifetime experience working with Shimokawa's tourism board and town promotion department, and be part of Japan's revitalization movement!
We are looking for 3 international students to be part of this cause.
Shimokawa is a little town located in Northern Hokkaido, with 90% of its land covered with forests. Shimokawa has a sustainable forestry management system, where it utilizes every part of the forests- logwood, leaves, bark, branches, tree sap and even the wood chips, to build houses, manufacture furniture, make bowls and accessories, produce aroma oil, and even produce biomass energy. This comprehensive forestry management system was recognized by the national government, which led to its recipient of the first Japan SDGs (Sustainable Development Goals) Award in 2018.
The Sosei Partners (Shimokawa) team will be working with the local government and community in the following timeframes to complete a set of assignments.
Visits to Shimokawa: May 3 ~ 5, July 14 ~ 16, September 13 ~ 17
Sosei Partners (Shimokawa) started in March 2017, where we had four international students from UK, Thailand, China and Singapore, as we carried out market research and report on Shimokawa's local products and potential selling points through international perspectives, so as to integrate the sale of local products into the local inbound tourism strategy. Based on the market research, we then created multilingual (English, Simplified Chinese, Thai) pamphlets that summarized the attractions of Shimokawa from different perspectives.
Click here to read more about what we did last year.
Check out our activity output with Shimokawa in 2017 on their official website.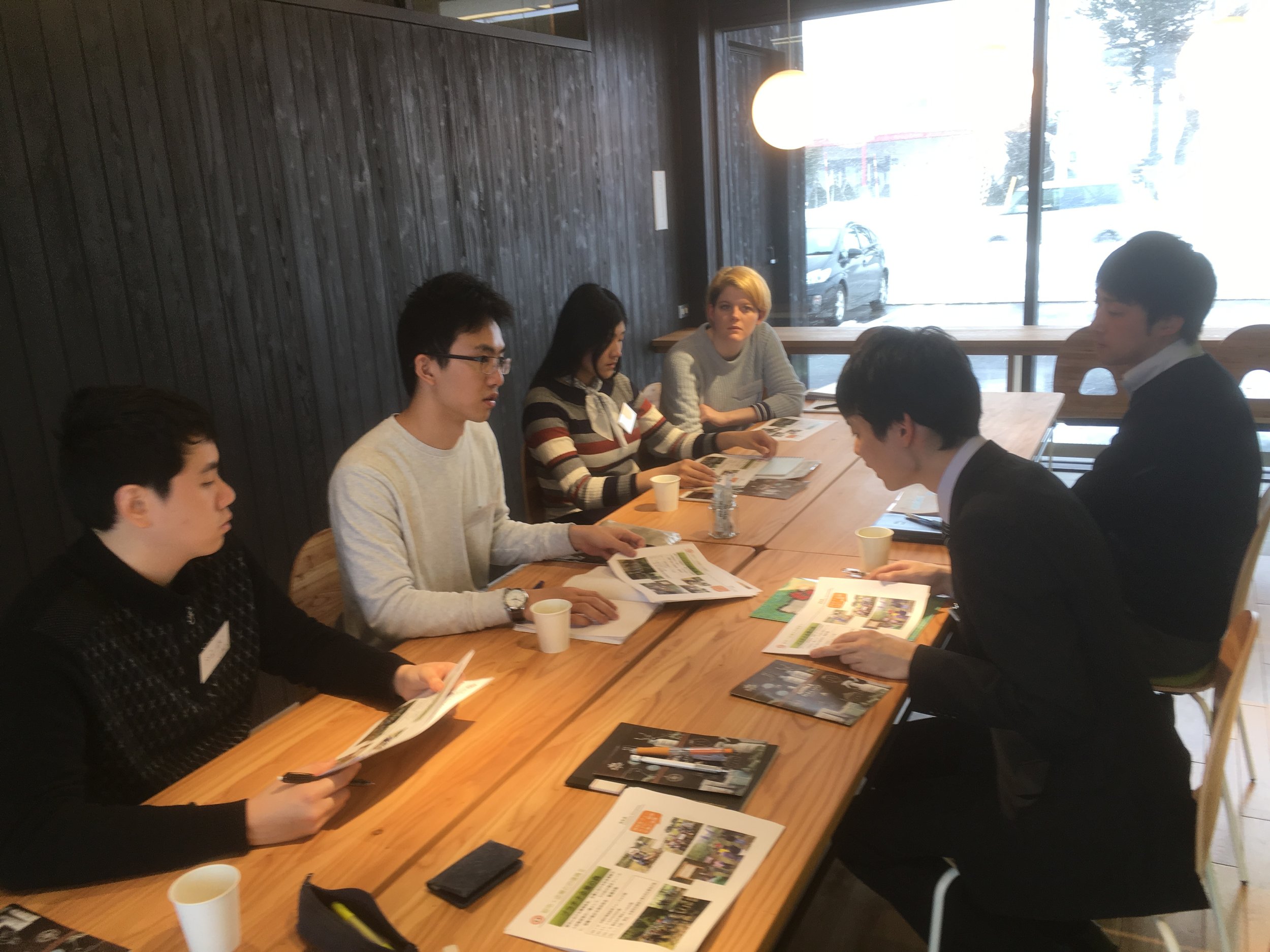 This year, we will be working on last year's results to further maximize Shimokawa's rich resources to attract visitors and to create a sustainable society.
We are specifically looking for participants who fulfill the following criteria:
・ 1 from China (or Chinese-speaking country)
・ 1 from Thailand
・ 1 native English speaker from North America or Europe
・ Participants must be able to participate in all 3 visits to Shimokawa. There will also be pre-trip meetings.
・ Participants living in Hokkaido will be given priority.
Participation fee: ¥20,000 (For entire program between May ~ September).
What is covered in the participation fee: Accommodation, educational materials, hands-on workshops and visits in Shimokawa, miscellaneous administrative fees
What is not covered: Transportation to Shimokawa and meals
Application Deadline: April 20, 2018
Join us and be part of Japan's revitalization movement!